Yoga, Pilates & AntiGravity® for Athletes
LOOKING FOR THE EDGE?
Many athletes and sports teams now realise the importance of including yoga, Pilates and aerial techniques in their training schedules to enhance wellbeing and boost athletic performance. Fiona has been teaching Yoga, Pilates and AntiGravity® to elite athletes individually, and professional sports teams in large and small groups in Sydney since 2004.
With a scientific approach to moving your body combined with the fundamentals of yoga, Pilates and aerial fitness techniques, Fiona can assist you to enhance strength and stability, improve balance and agility, free your mind, restore your body, and prolong your playing career.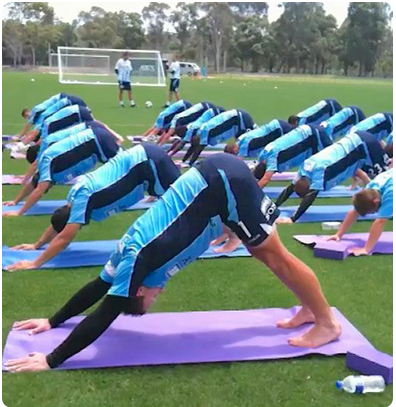 TEAM & INDIVIDUAL SESSIONS
Indoor or outdoor team sessions are available for large or small groups in Sydney. The style and pace of the class will be tailored to the demands of your sport and support you through the training and competition seasons. All mats and equipment supplied.
Book a private session and understand your body and mind to be at your best in training and competition. Whether you want to rehabilitate and restore your body, maintain fitness in the off season or manage stress in competition, Fiona will personalise the sessions to help you reach your full potential.
ON-DEMAND YOGA FOR ATHLETES
Yoga for Soccer Players
Move better, recover faster, free your mind! Based on the book 40 Essential Soccer Stretches: Warm Up and Cool Down with Yoga, This Yoga for Soccer Players program will guide you from beginner to Pro in 6 weeks with 20mins a day.
If you're already a Yoga Pro you can simply go straight to the 30min sequences to condition your body and release your legs, hips and back. These are yoga sessions used by Fiona with A-League and semi-professional players.
Includes a copy of the E-Book '40 Essential Soccer Stretches'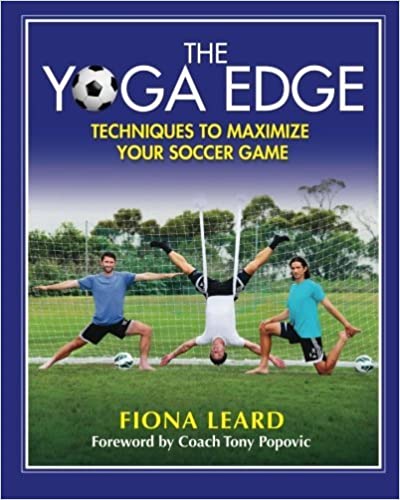 The Yoga Edge
Sport scientist and yoga teacher Fiona Leard gives you three soccer-specific yoga sequences (Power Yoga, Yin Yoga & AntiGravity® Yoga) she's used with A-League players to enhance the power of the mind and body. These easy-to-understand programs have been used by some of the best players in the country and are suitable for all ages and fitness levels.
40 Essential Soccer Stretches
This book gives you the yoga warm-up and cool-down routines used by players to enhance mobility, improve flexibility, and assist recovery after playing. The sequences are a simple and effective way to maintain your body and help you perform at your best. This must-have soccer-specific stretching book is suitable for all ages and fitness levels.